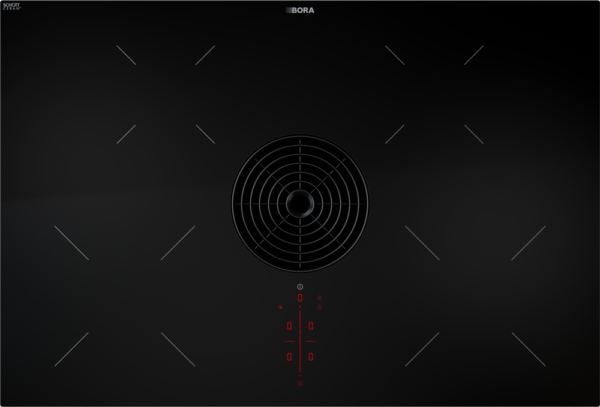 BORA Pure induction cooktop with integrated cooktop extractor – Recirculation
Product information
The unique vertical slider makes operation via the intuitive up and downwards movement of your finger or direct tapping with the fingertip even easier. All of the important functions are at your fingertips in a flash.

In recirculation mode odours are neutralised by a highly efficient activated charcoal filter. To make life easier, the filter is changed from the top through the air inlet aperture – without having to remove drawers or plinth panels.

Fresh, odourless ambient air in the whole kitchen:The air cleaning boxes and integrated filter solutions effectively remove unpleasant odours in recirculation mode – and for a long time.

Always markedly quiet – even at high power levels:The reason lies in the optimal airflow and the use of an extremely low-noise fan. There are no distractions when cooking and no interruptions when entertaining.

All parts that come into contact with cooking vapours can be easily removed through the accessible, wide inlet opening. They can then be cleaned in the dishwasher, where they take up very little space.

If anything is spilt during cooking, the integrated drip tray safely catches both solids and liquids.

Controls that don't get in the way and perfectly-sized and arranged cooking zones mean that there is room for 2 large pots (up to 24 cm) to be placed one behind the other.

At under 200mm, the low installation height and integrated recirculation unit guarantee maximum storage space for pots and other kitchen utensils in the cupboard below. Even in 60-cm-deep kitchen units, no drawers need to be shortened in recirculation mode. A change from the norm.

The extractor power level automatically adjusts itself according to current cooking conditions. There's no need for constant manual adjustment, which means you can focus fully on your cooking.

The appliance can be set to demo mode via the settings menu, which provides all operating functions, however, the heating function of the cooktops is deactivated.
Documents
Technical data
| | |
| --- | --- |
| Supply voltage | 380 – 415 V 2N/3N |
| Supply voltage | 220 – 240 V |
| Frequency | 50/60 Hz |
| Maximum power consumption | 7.6 kW |
| Fuse protection / power supply | 3 x 16 A |
| Fuse protection / power supply | 2 x 16 A |
| Fuse protection / power supply | 1 x 32 A |
| Dimensions (WxDxH) | 760 x 515 x 199 mm |
| Weight (incl. accessories/packaging) | 24,3 kg |
| Surface material | SCHOTT CERAN® |
| Service life | Max. 150 h / 1 year |
| Power levels | 1 – 9, P |
| Back cooking zone dimensions | Ø 175 mm |
| Front cooking zone dimensions | Ø 210 mm |
| Front cooking zone power | 2300 W |
| Back cooking zone power | 1400 W |
| Front cooking zone power setting | 3000 W |
| Back cooking zone power setting | 2100 W |
| Filter medium | Activated charcoal filter with ion exchanger |
| Material | Filter panel with fine filter |